Posted On May 23, 2013
Did you know that many of the allegedy "normal" signs of aging are actually an indication of premature aging due to stress? The constant stress of city life shows up on our skin as loss of elasticity and firmness, wrinkles, and discoloration. That's the bad news. The good news is that there are SO many ways to alleviate stress and cultivate joy, which will help create a youthful and radiant glow from within, no matter what your age!
One of my favorites is daily meditation practice, so I'd love to share with you a chakra meditation I like to do at least once a week.
First find a comfortable seated position. If you are sitting cross legged, make sure you are elevated on some kind of support, especially if when you cross your legs, your knees are higher than your hips. You want the knees to be descending well below hip level to sit comfortably for any length of time. If you aren't able to sit with legs crossed for at least ten minutes, you may do the meditation sitting up in a chair, or laying down on your back with knees bent and the soles of the feet on the floor.
Now, wherever you are (unless you're laying down :P), sit well, place your palms face down on your thighs. Feel the sitting bones descend into their support. From that descending, allow your spine to ASCEND, growing taller, gently spread the collar bones open to blossom the chest open. Take a few natural breaths in and out. You may repeat to yourself: "breathing i am breathing in, breathing i am breathing out", to bring your attention inward.
Beginning at the base of your spine and working your way up to the crown of your head, take your attention to the area of your body each of your chakras, or subtle energy centers, and keep it there for 20 focused breaths. Like this, keeping count mentally: inhale 1, exhale 2, inhale 3, exhale 4, and so on. If you lose count, or the mind begins to wander start over. If you are unsure where the chakras are there is a list at the end of the post for reference.
After you've meditated on all 7 chakras. You may choose to spend a few minutes repeating the mantra of any chakra you feel needs special attention, either out loud, or to yourself.
root/pelvic floor: lam (l-ah-m)
sacral/pelvic basin: vam (v-ah-m)
solar plexus/navel: ram (r-ah-m)
third eye/in between eyebrows: ksam (ks-ah-m)
crown/just above your the the top of your head: om
To close my meditation practice I like to bring my palms to touch in front of my heart, bow my chin to my rising chest and say a short prayer. You may just repeat the syllable "om" one to three times. Then crack open your eyes and SMILE!!!!
Om Aroma is an organic skincare line, spa, and lifestyle gift boutique dedicated to all things green, good, and gorgeous. For more organic gift ideas, visit the
gift section
of our website or our
online catalog
. The boutique spa is located in New York City's West Village.
Posted On May 23, 2013
Turmeric is a flavorful and richly colored spice from India that is known to have potent anti-inflammatory properties. It is also a strong antioxidant as well as antibacterial and antiseptic. The list of its health benefits goes on and on! For more on the healing power of turmeric, check out
this link
.
I also recently discovered that this wonder spice is very good for the skin. It is healing, hydrating, revitalizing, and is said to be especially effective in treating acne prone and sensitive skin issues like psoriasis and eczema. I like it because it leaves my skin with an absolutely gorgeous and radiant glow!
To experience this magic for yourself, add a tiny dash (a little goes a long way!) of turmeric powder to your
Om Aroma Manuka Honey Masque
next time you use it. Your skin will absolutely love it!
xoxo
Om Aroma is an organic skincare line, spa, and lifestyle gift boutique dedicated to all things green, good, and gorgeous. For more organic gift ideas, visit the
gift section
of our website or our
online catalog
. The boutique spa is located in New York City's West Village
Posted On May 23, 2013
"Keeping your body healthy is an expression of gratitude to the whole cosmos - the trees, the clouds, everything"
- Tich Nhat Hahn
Simple & Yummy Chickpea Salad
1 can chickpeas, drained and rinsed, boiled until soft
1 cup chopped carrots, boiled until tender
1 cup chopped cucumber (i like the seedless kind)
1 tsp whole corriander seeds
1 tsp whole black mustard seeds
Place chopped cucumber in a mixing bowl.
In a medium pot bring 4 cups (or so) of water to a boil. Add the chickpeas & carrots. I like to add the peeled carrots whole and then cut them after when they are tender. :) Drain, then add the chickpeas & chopped carrots to the mixing bowl and set aside.
In a small frying pan warm 3 tbsp of olive on medium-high heat, then add the spices, they should "snap" and begin to brown. When they start to brown remove from heat and add to the mixing bowl. Add salt & pepper to taste and then give a light toss.
Combine with rice for a heartier meal, or just eat right away for a light healthy snack! I think some fresh herbs, and squeeze of fresh lemon juice would be a nice addition as well.
Om Aroma is an organic skincare line, spa, and lifestyle gift boutique dedicated to all things green, good, and gorgeous. For more organic gift ideas, visit the
gift section
of our website or our
online catalog
. The boutique spa is located in New York City's West Village.
Posted On May 23, 2013
Spring has sprung! You've made it through the cold, dry winter and now is the time to brighten up and lighten up - what better way to do so than with a simple yet soothing organic Om Aroma mini-facial that you can do at home in 5 minutes or less? It takes no time at all, really, and will leave your skin lustrous and glowing!
You will need:
1) Soak your wash cloth with very hot water. Squeeze any excess water out and then press the hot wash cloth on to your face to open your pores. If you have an extra 5 minutes to spare you might even consider laying down on the couch or doing a relaxing yoga posture like legs up the wall with the hot wash cloth on your face.
2) Massage your Om Aroma Serum of choice onto your skin in gentle upward strokes. For a mini eye massage use the ring finger to massage in a circle around each eye. Ahhh feels so good!!!
3) Soak your wash cloth with ice cold water, squeeze out any excess and then gently wipe the oil off your face.
Simple as that, your skin is ready for Spring - goregous and glowing! Pamper yourself today (and everyday) - you deserve it.
xoxo
Om Aroma is an organic skincare line, spa, and lifestyle gift boutique dedicated to all things green, good, and gorgeous. For more organic gift ideas, visit the gift section of our website or our online catalog. The boutique space is located in New York City's West Village.
Posted On May 23, 2013
Did you know that our emotions have an impact on the appearance of our skin? Stress can cause our skin to be more reactive, causing breakouts to be more inflamed and rosacea to be more red.
It's so important to reach in to our holistic skin care cabinet and remember to use the tools we have to reduce stress along with our cleansers, toners and creams. This spring, remember to take the steps to prevent stress as much as fine lines and free radicals in order to improve your skin's appearance.
Here are the Top 10 tricks and tips to keep reduce stress and keep your skin looking vibrant and fresh:
1. Yoga - This is a fantastic way to feel balanced in mind, body and spirit. The beauty about yoga is that it is a personal practice and can be done at any pace that feels right for you. My practice of choice is heated yoga! It increases circulation and helps to detox.
2. Breathe Deep - This is so simple but so effective. Just taking a few minutes to be conscious of taking BIG inhales and exhales will immediately reduce feelings of stress.
3. Take Walks - This is a perfect way to slow down and appreciate the beauty blooming around you!
4. Drink Tea - Some times all you need to feel relaxed, warm and cozy is your favorite tea as the weather transitions. And if it's warm out, ice it! I love mine with a spoonful of honey.
5. Read Magazines - This is the perfect companion to tea. Some of my favorites are Kinfolk and Darling.
6. Face Mask - The next best thing to add to your tea and magazine combo is a face mask. Make it a mini at home spa treatment. You could even make your own with ingredients fresh from your kitchen (check back for simple receipes)!
7. Spend Time With Animals - Cuddle with your favorite creature. They love to make you happy and feel stress free.
8. Create Fragrant Flower Arrangements - Creating something to improve your surroundings (with the added luxury of aromatherapy), will instantly lift your spirits and increase positive feelings. Take advantage of the lovely flowers in season like freesias, poppies, and seeded eucalyptus!
9. Spend Time With People That Make You Happy - Making time to be in the company of your loved ones is so balancing. More times than not it turns out to be just what I needed!
10. Reward Yourself - Remind yourself of all that you have accomplished and are accomplishing. Buy yourself a well deserved present! My personal favorite - A new face mask or a spa treatment!
---
Savor Spa is proud to carry Om Aroma & Co. Organic skin care. Stop by for a complimentary homecare consultation.
Posted On May 23, 2013
Hold onto your hats, ladies! There's only two weeks left until spring springs! I'm almost giddy with anticipation- blooming flowers, blue skies, and bare arms are just a blink away. Speaking of which, now's the time to start being doubly diligent with our body moisturizing routines.
We've talked before about how soft and silky our Organic Sugar Scrub makes skin, but it's been a bit since we focused on our Organic Chardonnay Body Cream-( the product that started it all, by the way).
Antioxidant rich and in a soothing oatmeal base, the light body and texture of coconut and sweet almond oils are combined with our proprietary citrus organic essential oil blend, and organic Chardonnay Oil adds an extra layer of anti-aging power.
Wildcrafted organic shea butter brings ncredible richness. Shea butter is an extraordinary hydrator in many senses of the word: it contains more of what is known as nonsaponifiable fraction than most oils, which means that when it's exposed to alkaline chemicals it retains its scructure as an oil instead of turning into soap. Translation: shea butter is ideal for use in healing products. Shea butter also contains a variety of cinnamic acids, which have anti-inflammatory properties. In fact, scientists have recently begun studying the effects of cinnamic acid on cancer cell samples. There is also evidence that cinnamic acid esters help prevent UV damage to skin!
Did I mention it smells divine, feels decadent, and leaves skin vibrant? What goes better with a flirty skirt or lightweight cardigan than beautiful skin?
Om Aroma & Co.'s organic body products are always in season. Order them online or stop by Savor Spa, our "eco-chic spa boutique" in New York City's West Village.
Posted On May 23, 2013
Winter is almost over, but now's around the time where those winter blahs really want to turn into winter blues. Here are a couple ways to shake off the gloom.
Cardio: As little as 15 minutes of intense exercise keeps my heart pumping for hours.
Lipstick: A bright new color, especially one that's outside my normal palette, can do wonders for my mood.
Massage: Nothing beats the contented and calm feeling of a great massage.
A good cuddle: It helps if you have an adorable three year old to squeeze, FYI.
Baking: I find baking relaxing and almost meditative- it keeps my hands and mind occupied enough that I am forced to "let go" of workday stress without being intense or requiring extraordinary amounts of attention.
Vitamins: Take your vitamins, girl. Especially the B and D ones.
Revamping my space: Paint a wall, move some furniture, swap a plain switchplate for a pretty one: all of these things bring palpable pleasure into my immediate space.
Laugh: Watch a funny movie, read a funny book, look at some funny goats on the internet. Nothing shakes gloom off like a fit of giggling.
And remember, SPRING IS COMING. I promise.
xoxo
Savor Spa offers a variety of organic services to keep you glowing even when it's gloomy.
Posted On May 23, 2013
Ingredient Spotlight: Tea Tree Oil
Tea Trees have long been used by Australia's Bundjalung people medicinally. Use of the oil specifically began after studies proved its efficacy in the 1920's. As a skin treatment specifically it has been shown to be as effective as Benzoyl Peroxide while causing less skin irritation. It has also been shown to be effective as a dandruff treatment. Its antibacterial properties make it a beneficial ingredient for deodorizing underarms or feet, as well.
In addition to its skin benefits adding a few drops to a homemade vinegar or castile soap cleanser is a great way to kill bacteria on countertops. Dilute it in water and spray it on carseats and doorknobs. It also fights mildew in showers and bathtubs.
Our Organic Tea Tree Toner is a gentle yet effective way to help balance and heal acne-prone skin. When used after cleansing and before moisturizing it helps re-acidify and strengthen the skin's acid mantle so it can fight off acne and free-radical damage. Additionally it heals existing blemishes and soothes irritation. I love that it isn't drying, unlike so many other "acne treatments" on the market, so I can use it even on the harshest winter day without worrying.
Stay warm and gorgeous!
xoxo
Savor Spa is proud to carry Om Aroma & Co. Organic skin care. Stop by for a complimentary homecare consultation.
Posted On May 23, 2013
Rose hip oil is a vegetable oil cultivated from a the fruit of the rose plant, also known as rose haw. Full of vitamins A and C, both of which protect skin from free radical damage and photoaging, it's an excellent anti-aging ingredient. Rose hip oil is also rich in Essential Fatty Acids, which help repair membranes making rosehip oil beneficial in healing scars and acne.
Our White Truffle Face Cream contains large amounts of rose hip oil as well as B-vitamin-heavy white truffles- which combine to make a cream that packs a significant antioxidant punch. Just one of many reasons Om Aroma & Co. users often report they no longer need to wear foundation!
The World's Cutest Senior Citizen...
xoxo
Come by Savor Spa for a complimentary Om Aroma & Co. organic hand treatment and to learn more about our amazing natural anti-aging ingredients.
Posted On May 23, 2013
You know how mesclun was the new romaine, and then arugula was the new mesclun, and then kale was the new arugula? Well the new kale is shaved brussels sprouts: raw brussels sprout salads have become totally ubiquitous on trendy restaurant menus. And even if you can't score a reservation at the hottest table in town (if they actually take reservations) you can still enjoy these fresh, tasty, and deliciously different salads. Pro-tip: Trader Joe's even has ready-shredded and washed brussels sprouts to make things extra simple.
I find tossing shredded sprouts and a handful of walnuts in a homemade blend of dijon, cider vinegar, and olive oil (shaken in a jar) then adding shavings of a strong hard cheese like parmesan, pecorino, or grana padano makes for a satisfying meal. A soft-cooked egg and/or pancetta for extra protein are nice additions as well.
Brussels sprouts are surprisingly versatile, though, so there's a recipe to go with every flavor craving. Some of my faves:
Told you they were versatile! See you in the kitchen...
xoxo
Savor Spa is a woman-empowerment eco-chic boutique and spa in New York's West Village. We proudly feature Om Aroma & Co. locally made organic products.
Posted On May 23, 2013
Winter weather can make skin tighter and itchier than the wool sweater my husband accidentally tossed into the dryer last week (I forgive you, honey. Mostly). Thankfully I always have plenty of organic body cream on hand, but you can never have too much soothing, so when I'm feeling especially dry (or stressed) I love soothing oatmeal soaks.
Oatmeal is hydrating and reduces irritation- it is also neutrally scented, which makes personalizing your bath with a favorite essential oil easy. I like using herbs like lavender, mint, or rosemary.
Take 4 cups of organic rolled oats and food process them until they are a powder- this way they won't just sink to the bottom of the tub. You can add some sprigs of lavender (or mint or rosemary or...) before processing. Store the powder in a fancy jar and the next time you or your skin feels frazzled simply light some candle, scoop a generous amount into a warm bath, and have yourself a nice long soak.
xoxo
Savor Spa, Om Aroma & Co. is fully stocked with bath and body products to keep you smooth through all the seasons.
Posted On May 23, 2013
If you're dealing with more than the occasional blemish, a Power Peel facial including intensive extractions is a great way to get started on the right track towards clearer skin. No matter how well we take care of our skin, though, blemishes are often an occasional fact of life. Since so-called "acne treatments" are often full of chemicals that do more harm than good, I thought I'd share one of my favorite homemade spot treatments.
You'll need a couple uncoated organic aspirin tablets and a small amount of distilled water. In a bowl add just enough distilled water to the aspirin tablets to make a paste. Apply this paste to individual pimples and leave on for ten to fifteen minutes before washing off. You can also apply the past as a mask on your face, neck, shoulders etc- but add a bit of organic jojoba oil to prevent excessive drying if you're using it as an all-over treatment.
This treatment works because aspirin contains salicylic acid, a beta hydroxy acid that is incredibly effective at fighting acne. This simple homemade preparation gives you the benefits of salicylic acid's healing powers without the unnecessarily sensitizing effects that come along with most store bought brands via fillers, dyes, perfumes, and preservatives.
What are some of your DIY beauty tricks?
xoxo
Savor Spa, Om Aroma & Co. is a woman-empowerment spa and boutique in the West Village. Stop by today for an organic facial, eco mani-pedi, or to browse our selection of thoughtful gifts.
Posted On May 23, 2013
It's cold, cold, cold outside and it seems like no matter what I do my skin and hair want more moisture. Luckily for me I can usually get them to squeeze me in at my favorite organic spa in the West Village (I have an "in" there), but some days I'm just too busy for a professional facial, which is when one of my favorite home treatments comes in handy. My secret ingredient for pumping some much-needed moisture into my skin and hair is easy to find, affordable, and totally (and I mean totally) green...
Simply grab an organic avocado, slice it in half, remove the pit, and mash the whole thing up like it's guacamole. Bland guacamole, though- cilantro, lime, and onion have no place here. Scoop half of the goop into your palms and rub it through your dry tresses, focusing on the ends. Clip your hair up and cover the mess with plastic wrap or a towel.
Now smooth the leftover mush onto your face. Don't worry about how it looks (maybe wait until the kids are asleep though); just focus on how soothing it feels. Avocado oil is intensely hydrating and full of antioxidant vitamins and skin-strengthening fatty acids.
If you have the time, this is a perfect pre-bath routine- any avocado that drips off will just enrich your soak. If you don't have time for a bath, the avocado starts taking effect in mere minutes. Rinse your hair and face thoroughly then be sure to apply your favorite Om Aroma Toner and face cream to seal in those healing avocado oils.
Now who's ready for a margarita?
xoxo
Posted On May 23, 2013
When I was a little girl I used to love watching my mom paint her nails. In fact, I loved mom's Revlon red (I still remember it was called Cherries in the Snow) nail polish so much I brushed it all over my arms, legs, and face...Look, mommy! I'm wearing lipstick!
To this day I can remember how much the nail polish remover stung my cheeks as my poor mother attempted to make her four year old child look less like an extra from a gory horror movie.
On that note, I'm so pleased to have discovered Hopscotch Kids nail polish. Founded by a mom disturbed by the amount of chemicals in "children's" cosmetics, Hopscotch Kids is a non-toxic water-based nail polish that comes in an array of colors vibrant enough to please even the fussiest fashionista.
Savor Spa now offers kid's manicures and pedicures using Hopscotch Kids nail polish. Kids (and grown ups who ask nicely) get an organic lollipop along with their treatment- our "Lollipop Club" special is the perfect way to spend a little girl time with your little girl. At $70 for mother-daughter mani-pedis Thursday through Sunday, we're already loving the increase in tiny faces at the spa, and so does SiSi (pictured above with our awesome new nail tech Haminda)!
See you soon!
xoxo
Savor Spa is the West Village's favorite spot for mother daughter bonding, eco chic gift-giving, organic spa services, and more.
Posted On May 23, 2013
Our estheticians at the spa are frequently asked about hot skin care ingredients, and these days not a week goes by without someone bringing up peptides. Peptides are short strings of amino acid proteins. In a nutshell, when collagen in our skin breaks down it produces specific peptides that signal our body to make more collagen. This process most commonly takes place when skin is wounded. Until recently, intense exfoliation was considered by most skin care experts to be the premiere anti-aging strategy: medical grade chemical peels, where skin is left red and raw and can't be exposed to sunlight for days or even weeks, are effective because they "trick" skin into making new collagen. The basic idea behind using peptide ingredients in skin care is to trigger that same collagen-producing reaction in a way that doesn't require harming the skin. Because they don't require downtime, peptide products are incredibly attractive to consumers. However, the technology is still relatively new and results are neither as dramatic nor as quickly attained with peptides as they are through intense chemical exfoliation.
Current research shows that an effective way to keep collagen production up and skin looking young and supple is through following a regimen of:
gentle cleansing (so as not to damage skin's barrier function- also connected to collagen production),
keeping skin moistured and protected with serums and creams that contain antioxidants, minerals, and, yes, peptides (like our White Truffle Face Cream),
regular exfoliating treatments with no-downtime-required, low-level professional-grade Alpha Hydroxy Acid peels (for example, our Power Peel Facial, which uses Lactic Acid- the AHA that is both most hydrating and

most effective at fading age spots), and

plenty of sun protection
xoxo, until our next lesson!
Savor Spa's staff of estheticians believe an educated clientele is a happy clientele, and love keeping up-to-date on the science of skin care. Come in for a treatment including detailed home-care regimen recommendations today!
Posted On May 23, 2013
As you know, our organic boutique is stocked full of thoughtful, woman-empowering gifts. Our "Laughter Is Organic" gift basket is incredibly popular, and we are proud to carry the Happy Blankie, created by a 7 year old entrepreneur and humanitarian! Our newest addition to the gift wall is yet another reason we are the perfect spot to shop for new moms and moms-to-be.
One Hot Mama is Erin Cox's hilarious, compassionate, and insightful guide to navigating new motherhood. A mother of three, Cox's accessible tone simplifies getting back to our pre-baby bodies and finding emotional balance. Cox offers low-stress guidelines that help us center ourselves to more fully enjoy the pleasures (and challenges!) of new motherhood.
Stop by our West Village boutique spa to browse our wonderful wall of woman-empowering gifts.
xoxo

Savor Spa, Om Aroma & Co. is proud to support and encourage woman entrepreneurs.
Posted On May 23, 2013
Goji berries, also known as wolfberries, have been gaining popularity rapidly in the west, no doubt thanks to their deliciously nutritious nature. Incredibly antioxidant rich, and long thought to promote longevity by Asian cultures, they have also shown promise for protecting against aging related diseases such as Alzheimer's. They have eight times the antioxidant power of pomegranates, and ten times that of blueberries and eighteen amino acids! Goji berries are thought to be most effective when eaten whole, and they have an enjoyably tangy sweet-and-sour flavor.
Knowing this, we are so happy to have discovered Goji Gourmet's cookies! Handmade with organic goji berries from the Himalayan mountains with no refined sugar or artificial ingredients, these low-calorie cookies help us sate our hunger without sacrificing our health.
Best of all, they were created by a woman entrepreneur living in New York City.
With Valentine's Day right around the corner why not treat yourself to something sweet and smart?
xoxo
Savor Spa is your one-stop-shop for organic gifts and goods made by woman entrepreneurs.
Posted On May 23, 2013
Over the holidays I noticed a visiting friend had more of a glow than usual- and this is a woman who always glows: a master botanical perfumer and skilled esthetician, I've always looked to her for knowledge and know-how when it comes to natural remedies and beauty routines. When I asked her secret she grinned conspiratorially, "Abhyanga. I feel like a proselytizer, I've told so many people about it!" "What is Abhyanga?" I asked her. I'm sure you are equally curious, and I'll give you your Abhyanga answers...but first we have to start at Ayurveda.
Ayurveda is considered by many scholars to be the oldest healing system still in existence- it came to prominence in India over five thousand years ago. You've probably heard of it from Deepak Chopra, who combines Ayurvedic and conventional medicines in his practice. Like Traditional Chinese Medicine (TCM), Ayurveda emphasizes a whole-body approach that places more emphasis on prevention and balance than Western medicine typically does. In Ayurveda there are three metabolic types, called Doshas. To oversimplify: each of these metabolic types require different things in order to balance themselves. This quest for balance takes place physically, emotionally, and spiritually- often all three at the same time-; Ayurveda does not make clear-cut distinctions between these realms the way Western medicine generally does.
One practice that helps balance us on multiple levels is Abhyanga (see, I got get back to it eventually!), a daily self-massage considered by many Ayurvedic practitioners to be one of the most important rituals to help us find balance. A morning routine that involves massaging warm oil into oneself while focusing on a mantra, reminder, or goal for the day; Abhyanga is performed before bathing and can be completed in as little as five minutes on a busy day. The physical act of massage helps smooth skin, invigorate circulation, move lymph, prevent cellulite, and prevent dehydration while the meditative aspect of the ritual helps center us in preparation for the day ahead of us. The results: younger looking skin, lower levels of stress hormones such as cortisol, and a clearer emotional outlook.

To get an idea about your particular Dosha type take this quiz. Once that's completed, go here to see what kind of oils are right for you and to get further Abyhanga input. Then drop us a line and tell us how it's going for you!
xoxo

Savor Spa is a woman-empowerment spa in the West Village. Savor Spa carries Om Aroma & Co. organic skin care and a full range of products that contribute to beauty, health, and wellbeing.
Posted On May 23, 2013
Savor Spa is in the news again! Pure Wow stopped by for a facial treatment and thoroughly enjoyed their time at "the West Village's new hot (and yes, cozy) spot."
Speaking of cozy, we're so happy to be carrying Lindie & Friends toys, made by a woman entrepreneur here in New York City. Each doll is handmade out of the softest cotton and fleece and is completely unique, not to mention squeezable.
Founder Kara Lesondak grew up drawing and creating "little creatures" and after a summer spent running a summer camp decided to go back to school to study toy design. The result is a line of diverse and adorable stuffed dolls that spark young imaginations and bring comfort to kids and adults alike.
Stay warm!
xoxo
Savor Spa is a woman empowerment organic spa in the West Village. We carry Om Aroma & Co. organic skin care along with unique gifts made by woman entrepreneurs and artisans.
Posted On May 23, 2013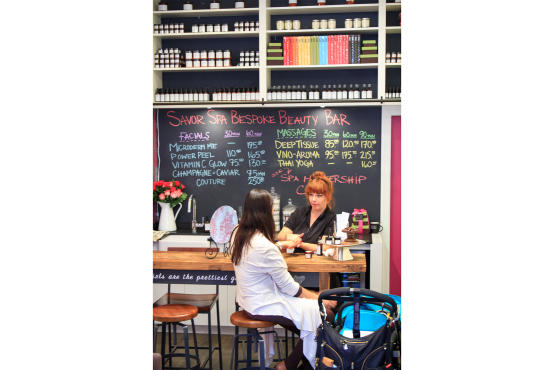 First things first: we are so excited- Savor Spa was written up in Time Out New York! They were properly impressed with our products, treatments, candles and woman-empowering mission statement, and the phone's been ringing off the hook with requests for appointments ever since.
Speaking of which, now that the cold has really arrived it's extra important to be hydrating our skin. A crucial step in doing so is properly exfoliating with a professional alpha hydroxy acid treatment. When we don't exfoliate effectively moisture can't penetrate past the first layers of dry, dead skin. Help your skin get the vitamins and nutrients it needs to maintain a healthy glow by booking a Power Peel facial with one of our excellent Savor Spa estheticians. Organic fruit enzymes and lactic acid gently slough off dull spots and fine lines, and then hydration is pumped in with Om Aroma & Co. organic anti-aging serums and our exclusive circulation-boosting facial massage.
Your deeply relaxing spa experience begins the moment you slip into our warmed spa bed. Steam mingles with soothing music, leaving you free to drift away while we are hard at work helping make you your most beautiful. What's better than something that makes you feel as good as it makes you look? Whoever said "beauty is pain" has never visited Savor Spa!
See you soon!
xoxo
Savor Spa, an organic West Village boutique spa, is your one-stop-shop for all things good, green, and gorgeous!